iRhyme for iPhone - The Songwriter's Rhyming Dictionary.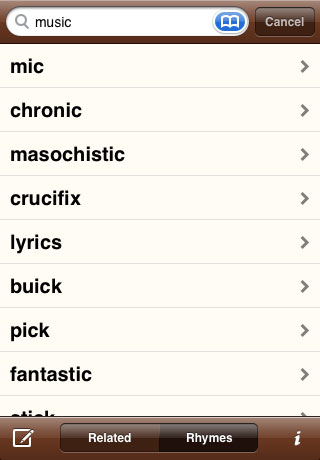 Testimonials
"iRhyme works great, love it! I was using it in the studio just last night."
— M.C. Hammer
What's iRhyme?
iRhyme is a brand new rhyming dictionary that gives you the best, most popular rhymes used by real songs!
Make your poetry, songwriting and rapping easy and fun with iRhyme!
iRhyme analyzes over 60,000+ songs to give you the best rhymes and lyrics.
iRhyme contains over 1.5+ Million rhymes, 57,000+ words - all instantly at your fingertips, right in your pocket!
Key Features
No internet connection needed
Over 1,500,000+ rhyme entries
Over 57,000+ word entries
Over 60,000+ songs analyzed
Search by most popular use in real songs
Includes the best related song lyrics for your word
Email and share your rhymes
Your rhymes are stored for easy recall
The ultimate tool for composing songs, lyrics and poetry
Ideal for songwriters, rap artists and poets
Simple interface, no configuration needed
Tap any result to instantly see more rhymes... and again for even more rhymes!
iRhyme - over a million rhymes in your pocket!
Download

iRhyme is available now in the App Store for just $0.99
Support
If you have any questions or need help, please send me an email at support at getirhyme.com.

Please pardon the dust, my WordPress site was recently hacked, trying to clean things up a bit.